The Hesse's Northwest Vacation

After buying the Dormie and driving it home, we were eager to get out and camp and see the sights. In the spring, we did the Hayward car show (not really seeing the sights there) and we went to Hollister ORV park. In August, we packed up the Dormie for a 3 week road trip; up the coast, no real plan except be in Portland (OR) for the All British Field Meet which is always held on the Labor Day weekend. Being in a real vacation mood, we stopped at the real tourist trap, drive through a redwood place. The took our money ($3 I think) and told us, "you might not fit". We didn't; but took a few photos and left. I think I could have gotten my money back but didn't try.

Driving north on 101, we came to the great Oregon dunes area. More sand than I could believe, piled up on both sides of the road for miles. We stopped at a couple places and saw how the locals (and not so locals) built real dune buggies to explore and race around on the sand. Very cool looking things and since we were on vacation, we rented a couple sand buggies to try ourselves.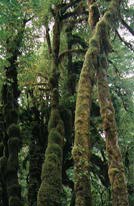 We kept cruising north, camping on the ocean where we could. Eventually, we found ourselves at the Olympic nation Park in Washington. I had heard a lot about it, so we drove in and found a place to stop. Luckily we had bought food and stayed in one spot for 2 nights.

We took all the tours and hikes we could and thought the place was very interesting. Even though it is classified as a temperate rain forest, we didn't get rained on! At one of the Ranger led campfire talks, Alex got to be a bug.
Finally, we got to Portland and to our first All British Meet. We picked a flat spot of ground for our campsite. Saturday morning we all moved to the show area. The photos below are indicative of the event. First is Gord'n and Stephanie Perrott's coiler 88, artfully parked on some tires. Next is a group shot of most of the Land Rovers. Last is the Dormobile row (plus one ambulance). The Dormobile with the rainbow top fabric is just a scanning artefact.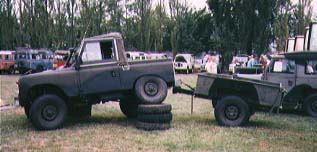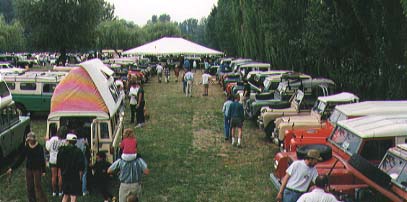 Copyright 1996, 2005 by John Hess All rights reserved