It was just a drive home

Part 1 where Doris gets her oats*

*a silly little Beatles reference
Trial by fire or stupidity, that's what it was. We purchased a Land-Rover Dormobile in Maine and then drove it 4000 miles to get it and us home to California. Along the way, I met a fellow Land-Rover nut, caught up with friends in Memphis and visited a brother in law in Texas. We spent two weeks on the road, cruising at a steady 55 mph (estimated since the speedo broke in New Hampshire). All of us enjoyed the trip, and as evidence for having a perfect wife, I submit the following quote, uttered somewhere in west Texas "I'd like to do this again in three or four years but take a whole month."
Day one: behind schedule already. Mike Smith arrives in Portland with the Dormobile and his wife in a Ford Explorer.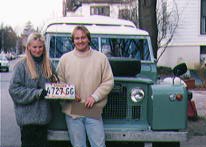 My wife and son were at the Portland children's museum but I lost no time taking a drive and then taking a driving lesson. The Land-Rover clutch coupled with the double clutching between first and second was quite a chore. (I think it wasn't 'til somewhere in Washington D.C., driving in traffic that I finally thought "I can do this". ) Pushing the clutch instantly reminded me of how I felt when I first got my Sunbeam Tiger. That clutch, when compared to the Mazda GLC was an effort. Now Elvises clutch makes the Tiger clutch seem easy.
Everything is a blur; it seems as though I hardly looked at the beast before handing the check over and driving out of Portland. In reality, it probably took longer, as we seemed to be leaving in the afternoon, not the morning; I really don't remember. As we left Portland, I stopped at a hardware store to get a spare ignition key. Cue twilight zone music. Now entering the Land-Rover zone, nothing is normal. No key blanks for the Rover at the hardware store and the locksmith down the road was closed.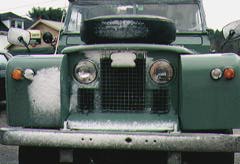 We drive on, hoping to take Katherine to a well known quilt store in Center Harbor, NH. As we leave Maine, we are treated to a snow flurry; good size flakes drop out of the sky and seem to curve as they fly into the windshield. When a few pile up, I reach for the wiper switch and hope they work. They do! They sweep the snow off to the side and we get a real treat, warm weather California folk driving in the best possible snow conditions: it's snowing but there's none on the ground. We stop for lunch in a small town and Katherine takes a few photos of the beast. Snow is covering the Land-Rover four wheel drive station wagon grill badge and is also gathered on the front of the spare tire on the hood. My son Alex is playing with some small icicles hanging from the front bumper. We definitely don't blend in: I'm wearing my red Birkenstock sandals and Alex is wearing shorts. While a small pizza is being cooked, I walk across the street to check for an ignition key. Again, no key blanks for the Rover. I learn pretty fast though; didn't try to get a new key until I got home.
The snow stopped after lunch; I think it got too cold. We cruised into NH and found the quilt store. The adrenalin fueling our excitement must have worn off because we were all freezing. The rover heater just wasn't the greatest. We all went into the store to keep warm. However, the warmth was only temporary. After we got back on the road we again slowly cooled off. Alex unbuckled his seat belt, got into a sleeping bag, then got rebuckled. I was already wearing a headband to keep my ears warm, my coat and gloves. As we continued west through NH, the sun finally set and it got colder; Katherine and I got out a sleeping bag and spread it over our laps. At this point, all romantic notions of camping vanished; I/we wanted to get warm. In Andover, we stopped at a crowed Italian restaurant called Sweet Tomatoes; we were glad to be seated in front of the big open hearth oven. We ate a good meal, braced ourselves for a quick drive to a motel and walked to the beast.
Day 2: After running excellently on day 1, the cold morning of day 2 the beast refused to start. I am not sure if the battery had been drained overnight by something electrical or if the cold had sapped the power out of the battery. All I know is that that morning, I wasn't feeling real good; I was questioning my judgement about buying a Land-Rover 3000 miles from home and was now losing my enthusiasm about driving this unheated big box across the country. Luckily, everyone took the inconvenience well. Katherine called triple A and in a moment of communal stupidity, we all stood around in the cold (the sun was warm) waiting for the tow truck to show up and give us a jump. I learned from the tow truck driver that the cold start button pulls out farther than I had it pulled out. After the jump start, Elvis ran excellently all day and we drove from Vermont to Garrison, NY, just outside New York city. I(we) had been invited to spend the night with Russell Dushin in Garrison, and being cheap and gregarious, we took him up on his offer.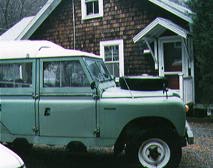 After a quick inspection (due to hunger, darkness and light rain), we got back in the beast to get dinner; Although we only had three seat belts, we had more than Nigel (Russell's 88). As our host for the night, Russell was given the front passenger seat. We all got along quite well and chatted a mile a minute. After dinner at a mexican restaurant, we continued the chatting 'til late into the night back at Russell's house, accompanied with a few Sierra Nevada Celebration Ales we had brought with us and some of Russell's Sam Adams Honey Porter.
Day 3/4. Monday morning. Russell had to go to work and we had to get to Washington D.C. Russell and I checked the overdrive oil level and fashioned a cup hanging from the sun visor to catch a drip (it was very foggy/misty, raining with little drops). Luckily, the drip only occurred while stopped; on the road the interior of the beast was dry! On the road we had a mini convoy, Russell leading the way with me following. After a few miles, Russell pulled off for work and we headed on toward the New Jersey Turnpike. On the New Jersey Turnpike, those feelings of "what have I done" came back to me in the form of a subtle vibration that became more and more unsubtle. I couldn't see anything wrong but the back of the beast had a definite wobble. The second time I stopped, an inner tube popped; then I figured out what was wrong. When I got the wheel off the beast, I could see that the wobble was caused by wheel(!) failure. The right rear wheel had come apart, one edge of the rim curving away from the bead of the tire such that the inner tube came out and then popped.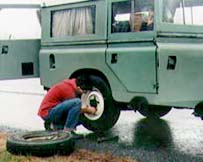 The spare was OK and we were on our way relatively quickly. I was grateful that it wasn't really raining and that it was just a wheel. It wasn't 'til later the next day, that I found out (Cue twilight zone music) that Land Rover wheels are not like any other wheels. So, to have a spare, I ordered a wheel from British Pacific and had it UPS code red shipped to me at Beltsville Used Tires in Beltsville, Maryland (Mitch is a good guy, tell him I sent you).
Not everything went as smooth as it seems; after Russell assured me that British Pacific had 16" wheels, I was told they were sold out. I very patiently asked if they had saved one for John Hess or Russell Dushin. No was the answer. I then proceeded to question the selling out from last night and me on the road in Maryland, when I said the magic words. Oh, said the nice person at British Pacific. you're the one on the road? We've got one wheel for you. End panic attack, I felt much better. We could see D.C, spend another night and then get the new wheel. And that's exactly what we did. We camped the first night in Maryland, finding Greenbelt Park by following signs from the freeway.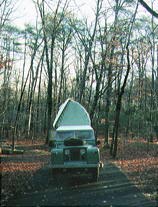 We viewed it as a great find in the middle of suburbia; not like a parking lot for RV's, but multiple places for vehicles to park, with enough space to gain some privacy. Of course, the space and lack of others camping also contributed to the privacy. We popped the top, cooked dinner, folded out the beds and read various books until bedtime. The next morning, hot drinks (coffee or chocolate) and raisin bread toast with cream cheese for breakfast got us moving. With our receipt from the campground, we got showers at the Beltsville community pool, thus, we were ready to go!
The Smithsonian Air and Space Museum entertained Alex for a couple of hours. It would have entertained Katherine and me for longer, especially with the silk batik display (by Mary Edna Fraser) for Katherine to look at, but we kept moving. Across the mall for by a quick tour of some modern art at the National Gallery. Then, to avoid getting the 4 o'clock tow, we departed from the excellent parking place in front of the air and space museum to move down the mall and see the Vietnam Veterans Memorial and the Lincoln Memorial. Katherine and I were equally amazed at the impact of the Vietnam Veterans memorial. The sculpture itself is stunning, black granite set into the ground; walking along the wall of names, you descend below the ground. The slope is shallow but the names are heart-stopping. The feeling that comes from walking down along the names dwarfs all. I am not old enough to have been drafted and too old to register; nonetheless, the feeling I got at the wall will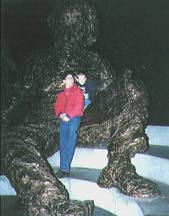 not be forgotten. I can not hope to convey a sense of it just like I can not convey the feeling I got reading the second inaugural address of Abraham Lincoln, carved on the wall of the Lincoln Memorial. A friend told us to look for Albert Einstein, so we got our photo taken sitting in his lap. Those are the sights we chose to occupy our day. A lot more are left for a later trip but we were on our way home.
Day 5: Got the new wheel, had the old tire put on it and then got back on the road. West from D.C. to Front Royal, VA where we picked up the Blue Ridge parkway (thanks to Sandy Grice (ROAV) for the suggestion). We spent an hour and a half on the parkway; would have done more but the 35 mph speed limit made our getting to friends in Memphis look like a week long drive so we cut over to the interstate. The views might not have been as nice, but for someone from the other coast, it was all enjoyable. The changes from southern Maine, through New Hampshire/Vermont and then upstate New York were more abrupt. In Virginia, we felt like we were coming out of the mountains on a slow trip to the midwest. We paralleled the ridges and continued driving southwest. We continued until we felt like stopping, still in Virginia but near the Tennessee border. We planned a day trip to the Bristol Caverns for the next day and then, in a fit of laziness, ordered a pizza to be delivered to our motel room.
Day 6, It was an hour and a half drive to the caverns. Although there were no other cars in the parking lot, we had to wait for a tour. Just enough time for a snack.
The Dormobile continue to fit into our family; we had brought from California nearly 10 pounds of sweet, easy to peel, Mandarine oranges. Instead of bring an empty cooler, we packed oranges and clothes inside, adding more oranges inside suitcases. We were hooked on these little treats! In addition to the oranges, we packed some leftover Halloween candy and some apples purchased in Maryland into the sink behind Alex. On the road, all we had to do was ask Alex for an apple or orange and we could have a snack.
So, we had snacks before the tour of Bristol Caverns and then took our own personal tour of the caves. After Carlsbad caverns (in New Mexico, next installment) the Bristol caverns aren't as impressive. However, at the time, we all enjoyed being underground. We saw a couple of crayfish in an underground creek and saw a few bats hibernating on the walls of the cave. Of course, stalactites were stuck tight to the ceiling, and some stalagmites were growing upwards but as I said, Carlsbad caverns is an over dose of the cave experience. After an hour and a half, we were back on the road, to drive the length of Tennessee.
I left my gas cap at a Flying J truck stop in Knoxville. Of course, I didn't plan on it and worse still, I didn't realize it until I'd driven another 300 miles west, but as Russell said, "Well, it won't be your first and it won't be your last, oops, it was your first, but it won't be your last". I stuffed a rag in the opening, ordered a new one from Rovers North (to be delivered to Austin, Tx). The folks at the Flying J weren't very helpful over the phone, I called twice and explained that I was looking for an old faded green gas cap that looked like it might have come off a tank, but they couldn't find it. When I got home, I posted a reward notice on the internet and Joseph Broach of Knoxville, Tennessee sent me my gas cap! I originally offered a twenty dollar reward for the cap, figuring the time and mail were worth something, plus I wanted the original cap back. Electronically, Joseph assured that something as exciting as trying to find a Dormobile gas cap doesn't happen very often in Knoxville and he would be happy to pay for postage. (I never did anything but say thank you to Joseph, so if you know him, send me his address so I can send him a t-shirt or something.) My wife has always said that the Land-Rover crowd seems to be a better group than the Tiger crowd and I have to agree. The offers to spend the night, the help on the road and the the help offered electronically are all evidence of this.
Next page, our trip continues from Memphis (Graceland!) through Texas (Texas is BIG) and home to California.
Copyright 1996, 2005 by John Hess All rights reserved