Hess's cross America
Part 2

With Elvis, the Land Rover Dormobile
We made it to Memphis, a welcome stop. We would be staying with friends we hadn't seen for 3 years and it would be possible to do things like laundry, check email and really relax. Plus, Kathy was set on seeing Graceland. Whether Elvis is dead or not, Graceland IS Graceland and while in Memphis, you have to do it.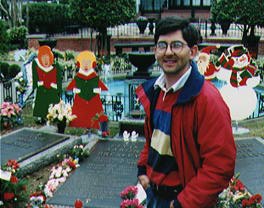 We did all these things. Plus, our Alex got to play with another Alex and just be a kid about in someone else's house. As I look back on the trip, I realize that leaving Memphis was the start of the West.
We crossed the mighty Mississippi at Memphis, and even though I assume the bridge was built at a narrowing of the river, it was much larger than the Sacramento River at home. Once across the river, we seemed to be on a journey from forest to open spaces. We crossed Arkansas on a southwest course bound for Austin Texas; no way would we make it in one day so we just cruised. We stopped at a Red Lobster in Texarkana at about 7 PM for dinner just because we figured Alex and Katherine could get some shrimp for dinner. While there, we got our first introduction to Texas: cowboy hats stayed on heads all through dinner. The remarks about a cowboy never taking his hat or boots off looked like they were true!
Well, like I said, we cruised. We would arrive in Austin on Sunday; either it would be early afternoon or later afternoon, but it wouldn't be morning. We were to visit Kathy's brother Jim and just assumed that whatever his schedule on Monday, we'd adapt. As it was, we showed up in the middle of the afternoon and got an amazingly quick tour around Austin in his Eagle Talon. After a week in a Land-Rover, it felt like an Indy car. Jim likes to drive his car and knows Austin; we zoomed past the Univ. of Texas (where he works), up to Mount Bunnell, out to Zilker Park, back to his house and then out to dinner at a local sandwich/beer joint. Kathy was thrilled to see crawfish (southern pronunciation) on the menu above the bar, recalling huge crayfish (California pronunciation) feeds she had consumed in California when she was younger. However, here in Texas, they make Cajun crawfish; this put a quick stop to her plans for a feast (Katherine does NOT do pepper). Despite this slight set back, we all had plenty to eat and tried Celis beer, a local brew.
Monday, we had time to look around Austin ourselves; we spent the morning in a huge bookstore called Half Price Books, looking for books and books on tape. Alex had been entertained by various activities contained in the Klutz Press Travel Book for Kids and we all had enjoyed books on tape-The Arabian Nights, Call of the Wild and another tape of children's stories. Although many might scoff at a radio or tape player in a rover, we made use of the one inside our rover.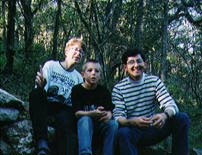 The rover is loud, but with the volume high and concentrating, we could all hear the tapes. After lunch with Jim, we were on our way to Zilker Park Nature Center. We did a bit of hiking, a bit of looking around and a lot of relaxing all helped by the heat wave- temperatures in the upper seventies.
All in all, we were thoroughly entertained in Austin and have to go back later. Arriving on a Sunday, we missed Marcia Ball (singer) by one day and Sunday/Monday is not the time to see any musicians at the local clubs. Plus,we didn't get to see the bats fly out of the Congress St. bridge. Kathy has an attraction for bats. She ventured into the Bristol caverns hoping to see bats (she did, but they were hibernating) and Carlsbad Caverns is famous for the summer night bat exodus. But that's besides the point. We all agree Austin seems like a great place so I think we'll be back.
Leaving Austin, we experienced first hand how big Texas is; west Texas goes and goes and then goes some more. We got onto a Texas state highway that ran north from I-10 and saw intersections with unpaved county roads that ran off into the desert, to where I don't know. It was along this paved road with the sun going down that I thought it would be a good idea to stick to bigger roads with people on them. That night, we stopped in Pecos Texas, a couple hours from our next side trip, Carlsbad Caverns in New Mexico. Going to Carlsbad was a good idea for two reasons. One, the Caverns are huge. Overwhelmingly huge! Two, going north, we got out of Texas faster which is not to say we hated Texas, but is to say that when you spend 4 days driving in the same state, even though you can see your position move on the map, you get depressed because you're still in the same state.
Did I mention Carlsbad caverns was HUGE? We took all the tours available that day; the one and one half mile walk in through the natural entrance, the one and one quarter mile walk around the big room and the one mile King's and Queen's room tours. Each was worth it for a different reasons. The walk in opens your imagination for the summer months when a million bats fly out a dusk to eat bugs. The entrance is a natural amphitheatre bowl and seats have been place around the base for visitors in the summer to sit and watch. When we went through, the bats had been gone for a month or so, migrating south to Mexico where it's warm. Nonetheless, walking in the natural entrance and down, down, down, into the main area was wonderful. Lots of formations, lots of turning and walking down which exercised our legs and a good number of signs to read about the cave and the formations. The other tours provided more things to see, from deep holes to huge stalagmites to long thin soda straws to cave ice, the most interesting thing for me. After hundreds of thousands of years, the right combination of minerals and water forms a thin, flat shelf, just like ice on top of a lake.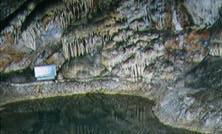 However, this ice is not cold and looks like rock. One step on a thin spot and it gives way, perhaps a few inches or perhaps many feet to the real floor below.
Because of the time we spent in the caverns, we covered few miles. That left us at Las Cruces New Mexico where Katherine navigated us to a state park for a camp out. We pulled into the park after dark an immediately set about having a western dinner. Lots of goodies stuck inside some home made tortillas we had purchased the day before at a very small mexican restaurant somewhere in Texas. It was perfect.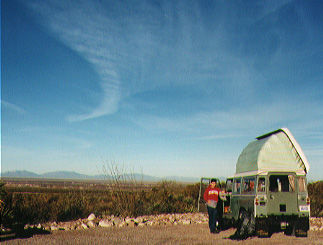 Tortillas, beer, warm weather and STARS. The night sky was clear; we were out of town and could see thousands and thousand of stars. Alex saw, or at least had the milky way pointed out to him and we identified some constellations. After that we folded everything out and and went to sleep. We hoped to get moving in the morning and cover the rest of New Mexico and then stop in Tucson so we knew it was going to be a long next day.
The drive to Tucson was broken up by a picnic lunch and tour at Steins ghost town on the New Mexico-Arizona border. This ghost town, left from early railroad days, had survived because it was inhabited by various people who over the years had kept it from being completely destroyed. Our host and hostess had some interesting things to say, not the least of which was praise for Land Rovers and mention that quite a few were still up in the hills by miners. After the tour and lunch, we settled in for a long drive to Tucson, our plans being to find a brew pub in town, spend the night somewhere and then see the Arizona Sonora Desert Museum the next day. I had seen the museum when about 10 years old (25 years ago!) and knew that it was consistently written up as a wonderful desert museum. I am happy to report that everything went as planned. We didn't know where we were going, but we got near the Univ. of Arizona and crossed the street that Gentle Bens brew pub was on, so I hung a quick series of right hand turns to go around the block and track down the address. While eating dinner, Katherine checked out our triple A books and found a reasonable motel for the night. The next morning, we found the museum and as an extra bonus, we drove through the Saguaro National Monument, loaded with those tall cactus that look so perfect. Things were going our way, we were getting closer to home and the rover was running great.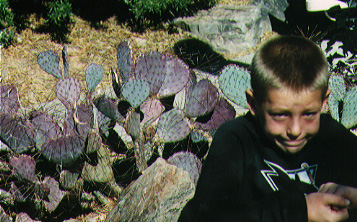 The side trip out of Tucson was our last. Leaving Arizona, we got right back into the driving grind. I knew that the more miles we covered, the fewer we had to cover (I know, a big abstract thought <- sarcasm) so I was willing to keep driving. After dinner, with the intention of making 50-60 miles, we ended up double that; Alex was asleep, the southern California desert was empty and I wasn't tired. We stopped for the night in Palmdale and all I can say is that the high desert was about as cold as the northeast was when we started. When we parked, water was frozen into ice in the parking lot and part of the reason we stopped was to get warm.
Well, the story ends anticlimactically. We had a good nights sleep, followed by another day of driving and we were home. Our dogs barked like crazy at the strange beast pulling into the driveway and still don't realize that it is ours. They bark when I pull up and then wag their tails when they see it's me. I on the other hand have readily accepted the Rover into our family and think of those headlights and grill as a happy face when I come home at night. I still face the task of registering the beast in California but I think that will be possible. Thanks for reading this far, if you are ever in Davis CA look me up!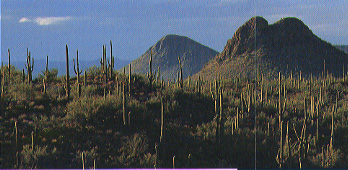 Copyright 1996, 2005 by John Hess All rights reserved